Customize Your Environment
Optic allows you to customize your user environment to best support your analysis tasks. You can even create and manage separate user environments - known as Workspaces - for different projects or different kinds of research. You can learn more about Workspaces in the Workspaces Tool section.
You can configure some customizations to your Workspace through the Workspaces Tool. Other settings are automatically saved to your Workspace as you work. These include:
Your Research Tool - Tabular Display Mode columns layout

Your Storm query bar mode (e.g., Lookup, Storm, etc.)

The current state of each display mode (e.g., Tabular, Force Graph, etc.)

Your query history in the Research and Console Tools for each query mode
Workspaces Tool
The Workspaces Tool can be accessed from the Optic Toolbar:

To customize aspects of your Workspace, select the WORKSPACES tab: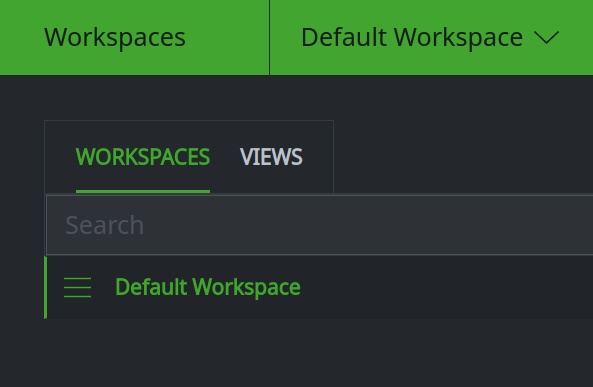 Research Tool - Tabular Display Mode
In Tabular mode, Synapse displays each form's primary property in the Results Panel by default. You can customize the data Synapse displays for each form, including:
properties;

tags;

tag timestamps;

properties from related / adjacent nodes;

arbitrary data specified by a variable.
Your column layouts are automatically saved as part of your active Workspace.